Kowloon East (KE) is Hong Kong's pilot area to explore the feasibility of developing a smart city. EKEO has been proactively engaging stakeholders including government departments, public utility companies, public transport operators, IT sectors, academic and research institutions to exchange ideas for seeking collaboration opportunities to push ahead with this policy initiative.
Smart City@KE Consultancy Study and proof of concept (PoC) trials
To investigate the feasibility of developing KE into a Smart City district in terms of constraints, opportunities and challenges, the Smart City@KE Consultancy Study was conducted and a number of proof of concept (PoC) trials were proposed under the Study. Subsequently, the proposed PoC trials were carried out.
My Kowloon East Mobile Application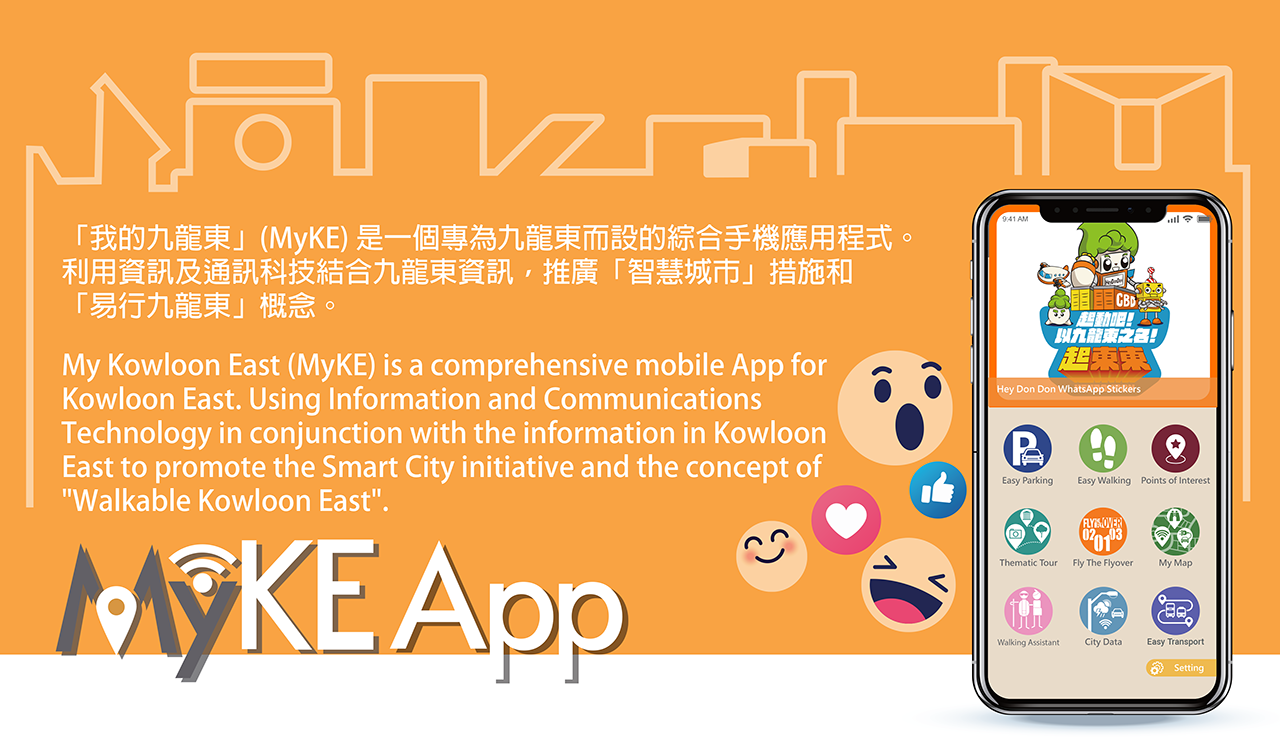 We have launched a mobile app "My Kowloon East" (MyKE) which aims at promoting the smart city initiatives and the concept of "Walkable Kowloon East". The app contains the following major functions:
Easy Parking: Provide real-time carpark parking vacancy data with its location, the shortest driving route leading the driver to the entrance of the car park and other car park information;
Easy Walking: Suggest personalized indoor and outdoor routes according to users' needs and preferences, such as sheltered paths, barrier-free paths and clean air routes;
Points of Interest: Recommend points of interest with some parts making use of augmented reality and virtual reality (AR/VR) technologies;
My Map: A one-stop geo-spatial information platform for disseminating useful locational data of the district, e.g. Wi-Fi hotspots, public toilets, bus stops, etc.;
Fly the Flyover: Introduce and share the various activities at the Fly the Flyover venues;
Thematic Tour: Provide thematic walking routes such as Industrial Culture Route, Back Alley Experience Route, San Po Kong Themed Route and Green Route etc.;
City Data: Provide city dashboards at Kwun Tong, Kowloon Bay, Kai Tak and San Po Kong. Share the real-time city data such as temperature, relative humidity, PM2.5 etc.;
Easy Transport: One-stop transport information platform in providing the real-time information of public transport including green minibus, bus and ferry within Kowloon East and San Po Kong Business Area; and
Walking Assistant: To provide indoor-outdoor seamless navigation with audio instruction for the visually impaired.
Download
Requirements for New Land Sale Sites in KE
Requirements for achieving BEAM Plus accreditation of Gold or above rating and a higher greening ratio as well as provision of smart water meter system and electric vehicle charging facilities have been stipulated for new land sale sites in KE. Supply of real-time parking vacancy information is also required at appropriate land sale sites. Developers may make reference to the "Requirements for Provision of Parking Information" published by the Government below. New government buildings in KE will generally comply with the same requirements.