Overview
In the 2015 Policy Address, the Government announced that Kowloon East (KE) would be used as a pilot area to explore the feasibility of developing a Smart City. The "Developing Kowloon East into a Smart City District – Feasibility Study" (this Study) was thus commenced to investigate the feasibility in terms of its strategies, challenges, constraints and opportunities. In this Study, we formulated a smart city framework and an advocacy statement for KE, as well as propose smart city initiatives and their implementation strategy. Through the public engagement, we strive to promote the benefits of smart city development and raise awareness in the community for developing KE into a smart, sustainable and liveable community.
We formulated implementation strategies for the proposed smart initiatives. These initiatives corresponded with the proposed smart city framework for KE, including enhancing mobility and walkability, optimizing resources management and improving the urban environment, and promoting socio-economic vibrancy.
We have also implemented various Proof of Concept (PoC) trials, which aimed to demonstrate the social benefits of smart city development and understand the feasibility of wider application.
The study was completed in December 2019. The findings of the study are summarized in the executive summary.
Smart Kowloon East Framework
The idea of our proposed framework stems from our vision and understanding of the existing condition of KE. It comprises THREE layers:
INNOVATION-ORIENTED PLATFORM
The core of our framework places particular emphasis on people as the foundation. By creating a platform promoting innovation, people are converged for interaction and collaboration to foster development and implementation of various smart city initiatives.
STRATEGIC ASPECTS
The middle layer of the framework contains the aspects which smart city initiatives can improve: (i) Governance & Socio-economic Vibrancy; (ii) Resources Management & Urban Environment; and (iii) Mobility & Walkability, to make KE a better place to live, work and play.
INFORMATION & COMMUNICATION TECHNOLOGIES (ICT)
The outer layer of the framework uses ICT as a tool to enhance the efficiency of smart city initiatives. It is the key enabling factor for implementing smart city initiatives for each strategic aspect.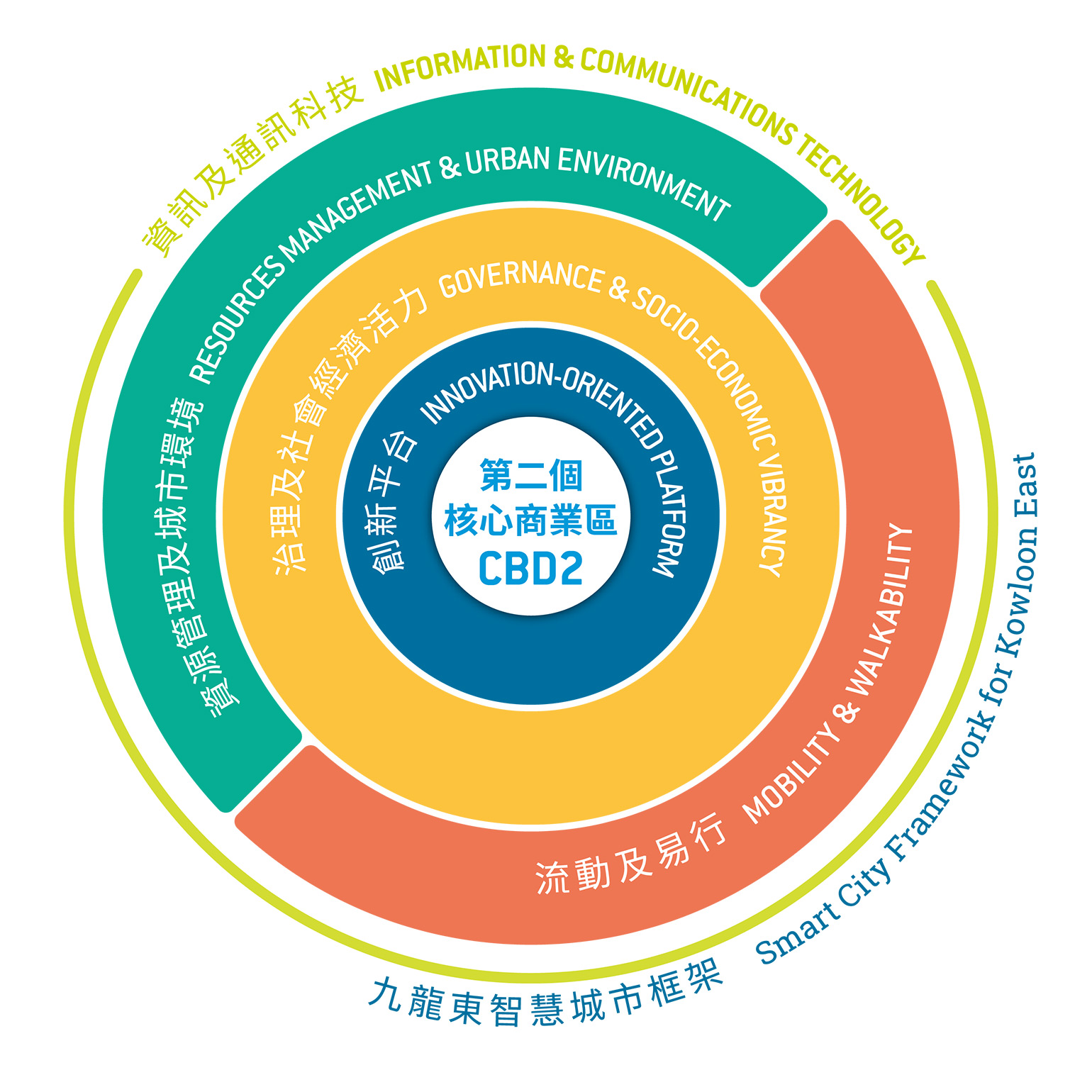 MOBILITY & WALKABILITY
Good mobility greatly increases the attractiveness and competitiveness for cities. The Study proposes to take forward smart measures in short (up to 2020), medium and long term (beyond 2020) which are in line with the following objectives for increasing the mobility of people and goods in Kowloon East, in particular for the built-up areas of the Kwun Tong and Kowloon Bay Business Areas:
Foster a Walkable Kowloon East by encouraging more walking and less use of motorised transport;
Better management of roadside activities to enable better utilisation of roads and off-street car parks;
Encourage the use of public transport over self-driving; and
Shift away from energy and environmentally less efficient modes of transport to more efficient, greener modes of transport.
WALKABLE KOWLOON EAST
The "Easy Walking" function in MyKE provides a way-finding tool to cater for the needs and preferences of individual users, while the "Thematic Tour" and "Personalised Tour" functions make walking in Kowloon East more interesting.
Proposed Measures:
EASY WALKING;
THEMATIC TOUR AND PERSONALISED TOUR;
INTELLIGENT JUNCTIONS
BETTER MANAGEMENT OF ROADSIDE ACTIVITIES
Systems using technologies such as video analytics (VA), machine learning, AI, AR positioning, etc. are being developed. With such technologies and coupled with the real-time parking vacancy information in off-street car parks and live traffic speed conditions, the utilisation of roads and off-street car parks can be enhanced.
Proposed Measures:
KERBSIDE LOADING AND UNLOADING BAY MONITORING SYSTEM;
ILLEGAL PARKING MONITORING SYSTEM;
REAL-TIME ROAD WORKS INFORMATION
EASY PARKING
ENCOURAGE THE USE OF PUBLIC TRANSPORT
To minimise traffic congestion, travellers are encouraged to use public transport over self-driving. Relevant public transport services information should be provided to allow well-informed instantaneous travel decisions and journey planning.
Proposed Measures:
PUBLIC TRANSPORT INFORMATION
GREEN MODE OF TRANSPORT
Low-carbon public transport modes provide an excellent alternative for smooth travel as well as to improve air quality.
Proposed Measures:
ELECTRIC AND AUTONOMOUS BUSES
CYCLING
RESOURCES MANAGEMENT & URBAN ENVIRONMENT
During the transformation of KE into CBD2, it is always a challenge to reduce energy use, environmental impacts and carbon footprint while sustaining its job opportunities and economic growth, as well as the well-being of people working or living there. In creating and sustaining a high quality environment, it requires not only modernised public infrastructures but also capitalising private initiatives. The Study proposes to take forward smart measures which are in line with the following objectives:
Implement resource-efficient infrastructures by introducing latest technologies; and
Incorporate blue-green infrastructures by integrating the hydrological and ecological values in urban landscape design.

RESOURCE-EFFICIENT INFRASTRUCTURE
Smart infrastructures comprise of resource-efficient methods at district and household levels.
Proposed Measures:
DISTRICT COOLING SYSTEM;
WASTE AND RECYCLABLES HANDLING;
ENERGY MONITORING SYSTEM AT HOUSEHOLD LEVEL
BLUE-GREEN INFRASTRUCTURES
Revitalising water bodies promotes greening, biodiversity, beautification and water-friendly activities and at the same time achieves effective drainage capability.
Proposed Measures:
REVITALISATION OF NULLAHS
GOVERNANCE & SOCIO-ECONOMIC VIBRANCY
Continuous improvement of urban efficiency and management of public assets through innovative technologies can improve city resilience, promote social inclusion and enhance socio-economic vibrancy. The Study proposes to take forward smart measures which are in line with the following objectives:
Enhance city resilience especially during mega events or adverse weather;
New implementation models to encourage various sectors to collaborate in smart city development;
promote good asset management to uplift the governance; and
Embrace social inclusion so that all individuals can enjoy in different aspects of life.

CITY RESILIENCE
Through innovative technologies, improvements for urban efficiency and asset management can be made to strengthen city resilience, promote social inclusion, and enhance socio-economic vibrancy.
Proposed Measures:
SMART CROWD MANAGEMENT SYSTEM
IMPLEMENTATION MODELS
To involve various sectors in smart city development, measures such as through new land sale requirements and implementation of PoC trials have been proposed to showcase the benefits of Smart City development.
Proposed Measures:
LAND SALE CONDITIONS
PROOF OF CONCEPT TRIALS
ASSET MANAGEMENT
To better manage the vast amount of government assets, and schedule maintenance in a more efficient and effective manner, innovative technology solutions are developed.
Proposed Measures:
SMART ROAD LIGHTS;
SMART DRAINAGE SYSTEM;
WATER INTELLIGENT NETWORK
SOCIAL INCLUSION
The growth of ageing population not only brings challenges to the society, but also opportunities for innovation solutions to embrace social inclusion.
Proposed Measures:
SMART PEDESTRIAN CROSSING
INFORMATION & COMMUNICATIONS TECHNOLOGY
Information & Communications Technology (ICT) enables linkages between multiple devices. Through the use of sensors and communication network, data can be easily collected and shared to support smart city initiatives. The Study proposes to take forward smart measures which are in line with the following objectives:
Collect city data through Internet of Things to facilitate planning and decision-making process;
Provide high-speed and reliable communication network; and
Set up common spatial data infrastructure for spatial data sharing.

INTERNET OF THINGS (IoT)
An IoT ecosystem in Kowloon East is important to develop various solutions that will trigger collaboration across parties, offering more opportunities and value creation.
Proposed Measures:
MULTI-PURPOSE LAMP POSTS
COMMUNICATION NETWORK
A wide range of telecommunications solutions, including cross-border connections, data centres and cloud services, have been developed. A high-speed and wide-coverage communication service can facilitate sensing network and transmission of data in realtime to enhance city management.
Proposed Measures:
DEVELOPMENT OF MOBILE COMMUNICATIONS
WI-FI INFRASTRUCTURE
COMMON SPATIAL DATA INFRASTRUCTURE (CSDI)
Spatial data have become indispensable for building a smart city and hence a common spatial data infrastructure is essential to providing a platform for sharing and analyzing spatial data.
Proposed Measures:
DATA STANDARDISATION
INNOVATION-ORIENTED PLATFORM
The establishment of an innovation-oriented platform fosters cocreation and cross-sector collaboration among the Government, the industry, academia, research institutes, other stakeholders and the general public to realise the vision of a Smart KE.
CO-CREATION
Taking into account the public views collected during Stage 1 PE and the formulated framework strategy, the PoC trials are demonstrating the benefits of smart city development, while various collaboration projects are contributing to smart city development. More and more parties are joining hands in the co-creation of a smart and sustainable city with KE as a starting point.
CROSS-SECTOR COLLABORATION
We encourage all parties to use KE as a test bed for exploring Smart City development and engage with various stakeholders such as research institutes, academic institutions, the ICT sector, public utility and public transport companies, professional bodies, landowners and developers, property management sector, building owners and car park operators in various projects.
Developing a smart city is an ongoing process. To achieve this, we provided support for smart city-related research projects in their funding application and facilitate liaison between government departments and researchers. Through our support, research subjects including an indoor and outdoor geographic information system for KE, tree risk alert system, air quality prediction system, using data mining techniques to personalise travelling experience and cost benefit analysis framework for future smart city projects have secured funding for their projects in KE.
With our facilitation, CLP Hong Kong Ltd. has also fostered a smart energy community covering some private developments in the KTD Area.
KE provides a test bed or demonstration ground for smart city projects to maximise the synergies created through tri-party (viz. government, private sectors and professional/ academic institutions) collaboration. We continue to encourage universities and research institutes to develop innovative smart city solutions. Some examples include:
Personalised Real-Time Air Quality Informatics System for Exposure – Hong Kong (PRAISE-HK) by Hong Kong University of Science and Technology (HKUST)
Smart Indoor and Outdoor Geographic Information System by Hong Kong Applied Science and Technology Research Institute Company Limited
Smart City Tree Management Project by Hong Kong Polytechnic University (PolyU), University of Hong Kong, HKUST and Friends of the Earth
Smart Energy Community by CLP Hong Kong Ltd.
People-Aware Smart City: A People-Centered Integration, Mining and Decision Framework by HKUST
Cost-Benefit Analysis Framework for Smart Development by PolyU
KNOWLEDGE BASED DEVELOPMENT
Since the conception of the Study, we have engaged in various exploratory and collaborative learning, experience-sharing and networking events, including visits, discussions, workshops, forums and conferences, competition judging to engender cross-sector and multi-level collaboration and partnerships involving both local and overseas stakeholders.
Apart from supporting the Education Bureau in their Science, Technology, Engineering and Mathematics (STEM) education, we have also shared the Kowloon East Smart City experiences with primary, secondary and university students' through STEM competitions, seminars and workshops organised by local universities and nonprofit making organisations.
Advocacy Statement
Co-Create a SMART KOWLOON EAST
In the 2015 Policy Address, the Government announced that Kowloon East (KE) would be used as a pilot area to explore the feasibility of developing a Smart City.
How to Participate?
Through the Advocacy Statement, we hope to encourage all sectors to co-create a Smart Kowloon East for people to work, live and play. All sectors can take this opportunity to participate and unleash the maximum potential benefits of smart city.
Enhance smart city services and facilities to echo with the KE vision
Proactively share information and data through the mobile app developed for KE
Participate in smart city initiatives and create synergy
COMMUNITY ENGAGEMENT
We attach importance to community engagement and co-creation in the process of smart city development in KE. Briefings, meetings, workshops and other events have been organised aiming to increase awareness and facilitate participation among various stakeholders including the general public to ensure that the community's aspirations are duly taken into account.
Stage 1 Public Engagement – Roving and Mobile Exhibitions (7.11.2016-6.1.2017)
Stage 1 Public Engagement – Focus Group Meetings (7-13.11.2016)
Stage 1 Public Engagement – Community Workshop (12.11.2016)
Stage 1 Public Engagement – Smart City Exhibition (7-13.11.2016)
Stage 2 Public Engagement – Symposium (5.1.2019)
Stage 2 Public Engagement – Roving Exhibition (5.1.2019-9.3.2019)
Stage 2 Public Engagement – Public Forum and Technologies Showcase (23.2.2019)